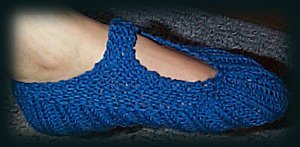 Pocketbook Slippers
Small enough to fit into a purse or small bag yet cozy and comfy on the tootsies
Size No. 7 (4.5 mm) Needles
4 Ply worsted weight yarn (1 ball)

Stitches Used:
Knit
Purl
Increase: pick up bar between st & knit into back of it
Decrease: k2tog

Cast on 5 sts.
Knit first 6 rows.

Next Row: Increase in 2nd stitch of each row until you have 22 stitches on the needle.
Next Row: Increase in each stitch to 44 sts.

Next Row: Knit 2, Purl 2 for 6 inches.

Next Row: Knit 2 together across giving you 22 sts.
Next Row: Decrease in 2nd stitch at beginning of every row until you have 5 sts.

Knit 6 rows.
Cast off, fold in half and sew the K2, P2 sides together and the 5 sts on top together to form strap.
Decorate with button or ribbon bow if desired.